Vinni Kiniki Artist CV
Selected exhibitions and features
A list of selected art exhibitions & features 
2020 – 'Human Malware' coronavirus inspired art, online exhibition with Art House Project London
2020 – BBC Panorama programme; artist feature, Black light reactive eyeball mural, Broadcast in UK
2019 – 'Tiny TAA' Group show with the Temporary Autonomous Artists, London, UK
2018 – 'Immersive' Group show at the Psychedelic Society, London, UK
2018 – Ecology group show at W3 Gallery, London, UK
2017 – Live black light artist at Notting Hill Arts Club, London, UK
2016 – Black light graffiti mural at warehouse party, London, UK
2015 – Graffiti Jam exhibition 'recharge' at Brownstone Art Gallery, Bangkok, Thailand
2015 – Live painting for 'ReLife' charity fundraiser, Gateway, Bangkok, Thailand
2014 – Live graffiti painting performance for Campari, W Hotel, Bangkok, Thailand
2014 – 'Groove is in the Art', Solo Show, Stencil Portraits on Vinyl, London, UK
2013 – Charity Mural for Camilian Home 'Colour of the heart' project, Thailand
2013 – Lush Charity event, Interactive art, Muse Hotel, Bangkok, Thailand
2013 – Audio / Visual collaboration group show, Farmani rooftop Gallery, Bangkok, Thailand
2011 – Lush Charity event, interactive art performance, Bangkok, Thailand
2011 – Stencil Portraits exhibited at Art on Vinyl exhibition, The Funhouse Gallery, Detroit, USA
2011 – "Paper trail performance", Nospace Art gallery, Bangkok, Thailand
2010 – Exhibition / Live Painting Performance, BKK Zero Festival, Overstay, Bangkok, Thailand
2010 – DUB, a series of Audio / Visual installations Bangkok, Thailand
A list of selected clients (and places i have performed or exhibited)
For any further information about any of the companies whose logos are displayed below please contact me for further information.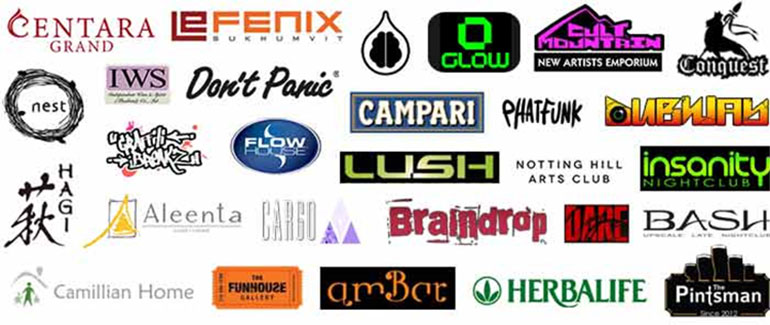 Artist's Statement
The carbon-based artist known as Vinni Kiniki is a multi-disciplinary artist who has worked professionally in a variety of mediums and formats; best known for creating large scale brightly coloured black-light murals. The murals feature self-invented characters who are used to express themes and bare statements on an ever-expanding series of topics.
My work often contains symbolism and hidden meanings, covering topics such as; aliens, science fiction, body modification, transhumanism, artificial intelligence, zen philosophy, ancient symbology, conspiracy theory, fetish, gender, altered states, occult and esoteric knowledge, genetic modification and climate change
Creative collaboration is something I love doing. Thanks to these collaborations I have displayed my art on massive scale by having my designs converted into animated, projection mappings or featured in interactive virtual reality installations. I enjoy painting live alongside musicians and DJs.
When I exhibit it is important to me that I invite the audience to a fully immersive and multi-sensory experience. I do this by incorporating elements of performance, cosplay, audience participation, special lighting, projection mapping, virtual reality. These elements blend seamlessly and are exhibited alongside or in combination with the painted and printed pieces I show. I do so in order to bring the whacky and surreal world that exists within my pieces to life, to cross over into the real world.
Thank you for taking the time to read by statement and visiting the website! If you need any further information please use the contact page
– Vinni Kiniki 2o2o