Stencil Art Portraits on Vinyl exhibition in Detroit
It was really cool to be invited to take part in the grand opening exhibition for the Funhouse art gallery in Detroit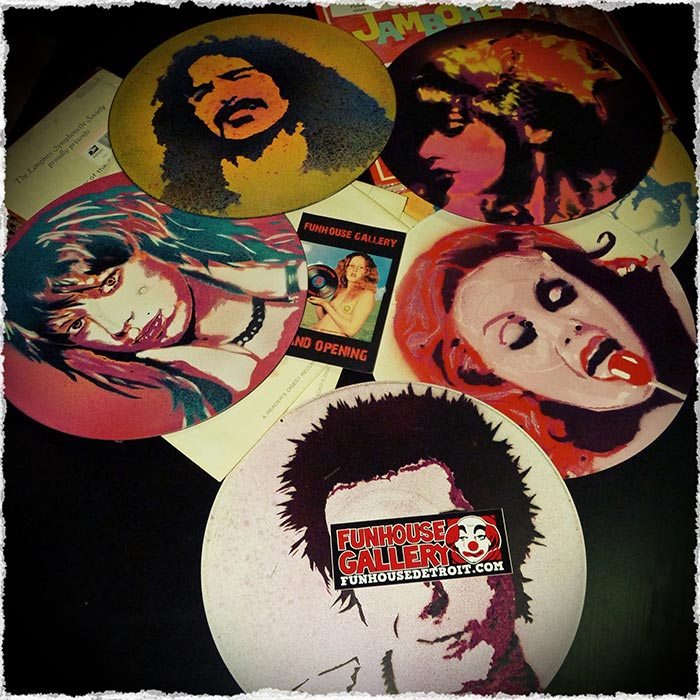 I was invited by the crew over at the Funhouse art gallery in order to exhibit some stencil art on vinyl records. I've been doing stencil art on vinyl for while now. It's such a great and abundant ready made material for art. I promise that I never use any good vinyl records as a canvas, painting on the record as most people would imagine completely renders the songs unplayable. So be sure when I paint on vinyl I always look for the cheapest, nastiest, most unplayable records imaginable. Imagine what's left over in the bargain bin of your local charity shop and then some. Anyway, I digress…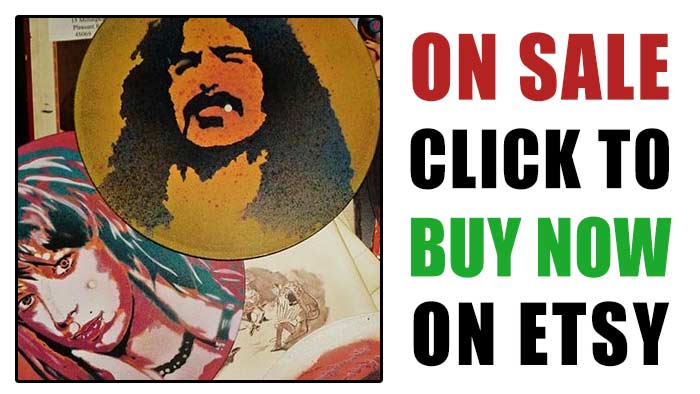 The show was opening on the 4th of June (for 2 weeks) and featured a selection of 50 other artists from all over the world, the common unifying theme; all art exhibited at the show must be painted or made using 12″ vinyl records. I submitted 10 records (stencil portraits of famous musicians and 1 triptych) to include in the exhibition. This is the first time that I've exhibited in the States, so it's very exciting.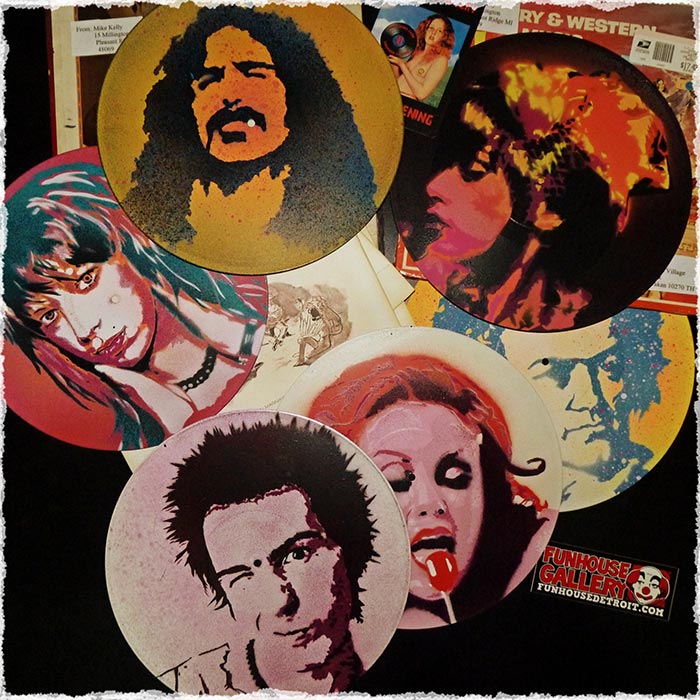 here is an official gallery release statement excerpt…
No this is NOT a vinyl toy show- does the world really need to manufacture more vinyl crap for creative types to paint on? We think not. We believe there's more than enough Ray Coniff Singers and Air Supply vinyl records to go around for the next 100 years.
Here is a sneak preview of one of the vinyl's YFOV is exhibiting; it's a Frank Zappa piece one of the greatest experimental rock n roll musicians of all time, this does him enough justice, but it's hard to sum up a man who produced such an eclectic and amazing body of work. This is our dedication to him to paint him on a medium which most of his music was released on… And hopefully YFOV has managed to capture Frank Zappa looking iconic and classy created using a stencil and spray paint painted onto a 12" vinyl record.