Lo-Fi Hits NFT Alien LSD Themed Art
LO-FI Hits is a collectible NFT series limited to 100 animation NFTs of Alien LSD Art available on Opensea, presented by ViNNi KiNiKi and Love Society Dao (LSDao)
In basic essence; 100 unique NFT animations themed around an alien character riding different objects which form the basis of the NFTs traits (properties). The 100 hits combine to make up a sheet, as shown below. Therefore this series really is limited to 100 NFTs and never more.
The project is best viewed on the lofihits.wtf website. Each animation or 'hit' is viewable on the Opensea platform. The project will exist on the Ethereum main net blockchain.
The alien is an original character developed by ViNNi KiNiKi, each of the 100 animations were done manually. The project is released with support by Love Society Dao.
This webpage serves as a overview, white paper and road map of the Lo-fi Hits NFT project. For further questions please contact me.

KEY LiNKS
Accept no substitute, the only official links for the project are as follows;
*- Please note the project has a Discord channel within the servers of the LSDAO Discord, we figured there is no point to over complicate things, one Discord channel to rule them all is plenty enough. Updates about the project will be focussed on the Twitter profile @lofihits which also appears as a feed to the main project website.
Lo-Fi Hits KEY PROJECT DATES
22/01/2022 – 6pm UTC NFTs are minted and listed on Opensea
Daily –

Updates to the project on Discord, Twitter and Instagram

TBD – Project launch party (This will also mark the sales of the NFTs to the general public)
TBD – Every 10 NFTs sold a giveaway for printed art is announced and a raffle party exclusive to collectors and discord members is organised. There will be additional giveaways for Discord members.
TBA – Additional giveaways will be announced on Twitter, Instagram and Discord, please make sure you are following to keep aware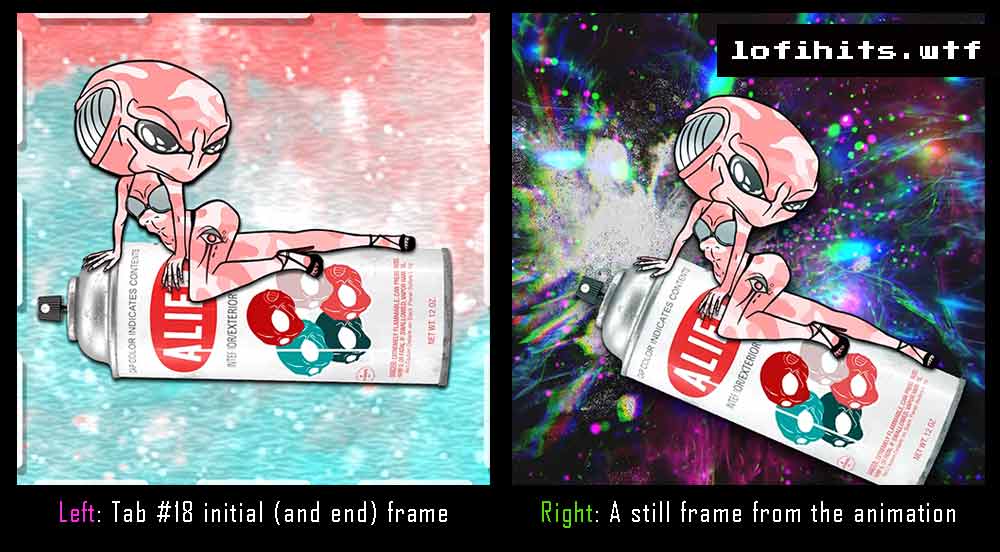 ARTICLE CONTENTS
LO-Fi HITS NFTS OVERViEW/PHiLOSOPHY
WHAT ARE YOU iNVESTING iN?
FORMAT AND UTiLiTY FACTOR
LO-Fi HiTS NFT TRAiTS
HOW WERE THE LO-Fi HiTS CREATED? (PROCESS iNSiGHT)
LO-Fi FAQS

Why "Lo-Fi Hits"?
Why WTF? (What is haveaniceday.wtf)
Why an Alien?
Who is LSDAo?

PRODUCTiON TEAM CREDiTS
FULL LiST OF TABS
1.LO-Fi HiTS NFTS OVERViEW/PHiLOSOPHY
Art can be an NFT, but NFTs don't have to be art. NFTs span across every artistic genre and style. NFTs walk a fine line between design, art, meme, product, consumable, utility and even money laundering system.
We believe art should be unrestricted, personal, expressive and not have to succumb to fulfilling or following pre-established trends and tactics.
The Bored Apes and Cryptopunks have become synonymous with NFTs and cryptoart, there have also been countless spin-offs and copycats, objectively speaking it's not a hard act to follow. We say this only because all the hard work has been done, all one would need to do as an NFT creator and project manager is to copy the roadmap pathed by the apes, which in reality does happen over and over again, with varying degrees of success.
If however you are someone who shudders at the thought of copying and following the pre-trodden paths this 'follow the leader' approach may seem somewhat contrived. No, what makes you tick is evolving and pushing boundaries, even if it is done by means combining pre-existing elements, at the very least putting a unique spin on things. We believe the Lo-fi Hits project does just that; 100 hits of animated alien NFT LSD fun presented in a bespoke delivery system.
2.WHAT ARE YOU iNVESTING iN?
Plainly speaking unlike many other NFT collections you are buying art made by an artist, rather than a NFT release where are artist has been hired to fulfil a function.
ViNNi KiNiKi is a career artist who has exhibited internationally, been featured in TV and commercials, NFTs are not the beginning of his career it is a continuation and expansion.
Art is an institution, made up of artists and collectors, NFT have allowed famous artists to continue their practice in a new format.
This NFT collection is as much a thoughtful reaction to the NFT scene as it is an NFT itself, it is meta, and due to very nature, it's existence eternal.
The sheer ingenuity, length of artists career and scarcity of the collection make this a very desirable piece of digital real estate.
We prefer you purchase the collectibles out of pure appreciation of the craft but based on their ability to retain and gain value, NFTs and cryptocurrency make this collection a cutting edge and lucrative investment proposal for the avid art investor and NFT collector.
3.FORMAT AND UTiLiTY FACTOR
Each Lo-Fi Hit NFT from this series means you, the collector, will own:
The Animation which is presented to the collector in digital format (MPEG4 file)
A PFP (still image) for use on social platform (eg. Twitter profile photo)
A high-definition copy of the soundtrack in WAV format.
The LoveSocietyDao offers special benefits for collectors of NFT they have released.
A chance to win physical signed and numbered copy of art by ViNNi KiNiKi

Eligibility is based on a raffle that happens every time 10 NFTs from the collection are sold, the raffle is exclusive to that chunk of 10 NFT collectors, this means for every NFT you collect you have a 1/10 chance of winning signed and numbered art.
4.LO-Fi HiTS NFT TRAiTS
The traits denote the scarcity and uniqueness of each tab. It is worth pointing out that the same level of love and attention was put into each Lo-fi hit NFT. Though it may influence some NFT collectors to buy the scarcest lo-fi hits, we'd rather suggested you have fun with it and choose the hit which sings best to you and not worry about traits. Having said that, this is a NFT world and we'd be silly not to take advantage of this fun feature of NFTs.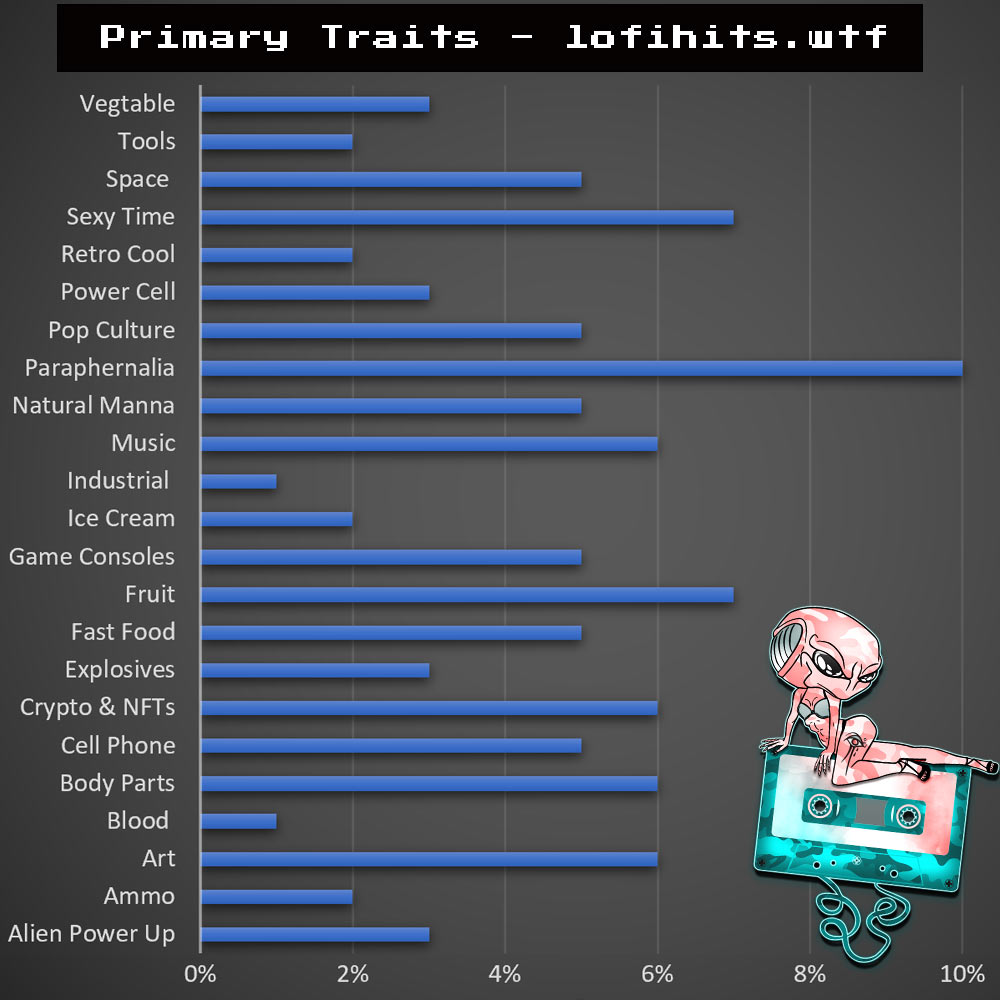 THEME TRAITS
There are 20 main traits as listed below alphabetically, they're scarcity value depends on the amount of the trait available, because the collection is capped to 100 Lo-fi NFTs these figures are fixed, this will bear some level of resale value, however it's worth noting due to overall level of scarcity every Lo-fi hit is a good investment.
Alien Power Up – 3%

Ammo – 2%

Art – 6%

Blood – 1%

Body Parts – 6%

Cell Phone – 5%

Crypto & NFTs – 6%

Explosives – 3%

Fast Food – 5%

Fruit – 7%

Game Consoles – 5%

Ice Cream – 2%

Industrial – 1%

Music – 6%

Natural Manna – 5%

Paraphernalia – 10%

Pop Culture – 5%

Power Cell – 3%

Retro Cool – 2%

Sexy Time – 7%

Space – 5%

Tools – 2%

Vegtable – 3%
SONIC (AUDIO) TRAITS
All audio are original compositions created by ViNNi KiNiKi using Ableton, Reason and Audition.
The Below percentages tell you how many times a the same track appears.
In some cases the NFTs have a totally unique audio composition which is not repeated elsewhere in the collection. These Lo-Fi Hits sound totally unique.
As an example Lo-Fi Hits #20 "Heart Beater" has a sound trait which is not shared with any other tab.
Transmutosis 21%
Triangular 4%
Violent Force 5%
Can You Feel it? 7%
Rood Roller 12%
Smooth Grooves 8%
Printonation 6%
Descend 7%
Utopia 5%
Immersed 4%
Monkey Trouble 3%
Ethereal Gemstone 2%
Like Busses Do 3%
Juicy Security 4%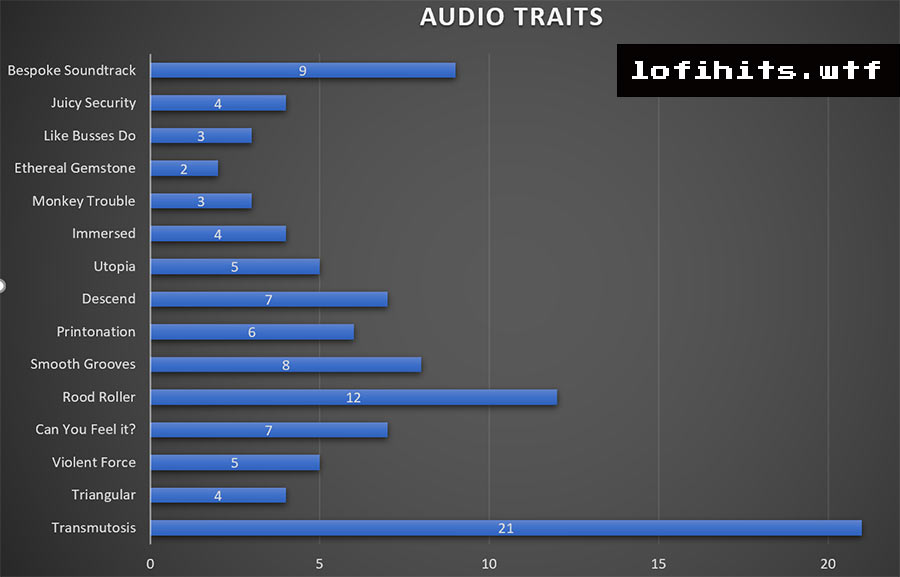 5.HOW WERE THE LO-Fi HiTS CREATED? (PROCESS iNSiGHT)
It was a long and arduous process, which we hope is reflected in the final outcome,
STEP 1 – Aliens, items and imitation LSD blotter paper.
The alien character is a design which the artist has been working on, featuring and refining over a long period of time (see next section "Why an alien?" for more details) – the outline of the Alien character was drawn by hand using Procreate on an Ipad Pro/Apple Pencil combo. The outline was exported and filled in photoshop.
The main background of the sheet was made using several psychedelic layers generated and exported using a number of different programs including Frax, later blended together, no original layer is distinguishable in the final background bounce. The background of the sheet was sliced into 10 columns and 10 rows to form 100 backgrounds for each individual tab.
100 aliens, 100 items… using legitimately sourced stock photos the alien was manually posed on 100 different items, each which fall under one of the main NFT traits (see Traits section for full list). These were then arranged onto the aforementioned background to create a sheet of LSD Blotter paper effect.
STEP 2 – Soundtrack
The soundtracks we composed using a combination of Reason, Ableton and Audition.
They were created to evoke different grooves and feels, but maintaining the theme of something trippy, cosmic and alien.
Some of the hits needed exclusive one off soundtracks that were not repeated on any of the other hits.
For example Lo-fi hit #40 "Dead NFT Pyckle Ryck" had a soundtrack and voiceover composed especially for that NFT animation
STEP 3 – Animating each hit of NFT fun
No two animations are alike. Each animation was done individually using Premiere Pro. The effect is that of each individual animation having a certain feeling and different journey (or trip)
Working on a slice of the overall sheet and the alien/item combo from that particular slice was taken into Premiere Pro
Each animation follows the same pattern, the beginning and end frame of the animation start and end on the slice of the main sheet, forming a perfect loop.
The background element, soundtrack and special effects used were selected and crafted to match the theme of the item and trait in the given animation.
For example Lo-fi Hit #2 "Vintendo trip" was especially and heavily glitched and used a soundtrack similar to that of a retro games console.
6.LO-Fi FAQS
Why is Lo-fi hits? (please read this question aloud in a Drax voice)
For the dinosaurs among us, it needs little explanation, for others; Lo-fi is short for 'Low fidelity', this is a feeling and a groove, it's a term which can be applied to a format, genre of music or overall feeling of NFT or art piece.
A distant cousin to glitch more associated with the analogue era in which elements usually regarded as imperfections of a recording or performance are audible, sometimes as a deliberate aesthetic choice.
The main alien character which is on the sheet featured at lofihits.wtf is posing neatly on a cassette tape which is rather synonymous with lo-fi (that and offcourse vinyl)
"Hits" however is a colloquial term used to descript a single unit or square pieced blotter paper infused with LSD (acid Morty, pure LSD).
We went through a number of names before settling on lo-fi hits as the main project name. Another name we considered was the 'cosmixtape' which has now become the name for the soundtrack of the work.
Why the f*** is the domain extension WTF?
Tradition and a nod towards the genesis NFT drop released by LoveSocietyDao with artist Tbuurd.
The project which was released sometime in early 2021 and gained rapid following and great success. There may be more WTF NFT to follow but at time of writing there exist only 2 NFT projects which have been released on WTF domains by Love Society Dao.
Why an alien?
The alien is a character which ViNNi has been using in his art work for a long time, in various formats ranging from black light graffiti murals to t-shirt prints.
Think of the alien as an actor in a movie, the actor is used to express a character or archetype. In this case the Alien has ventured into the NFT sphere, and in each animation tells a different story.
Who is LSDao?
The love society Dao are a group of (mostly) developers who believe in facilitating and empowering artists in the web3 space. There are also a number of established artists who make up the group and I'm happy to be adding to the amazing foundation.
7.CREDITS (where they be due…)
8.FULL LIST OF TABS