Black light graffiti artist hire
Black light art and UV reactive graffiti murals by London based artist for hire Vinni Kiniki
View this post on Instagram
Above watch my Black Light Graffiti & Street Art mural video playlist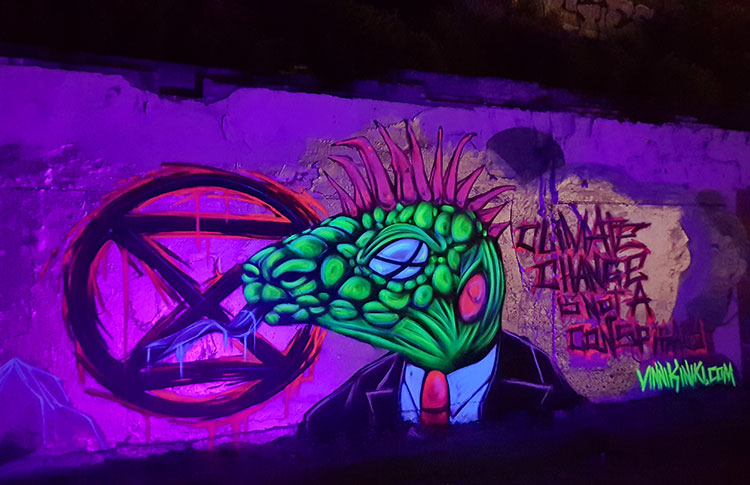 "Climate change is not a conspiracy" – Giant black light lizard in a suit street art at Black Rock, Brighton 2019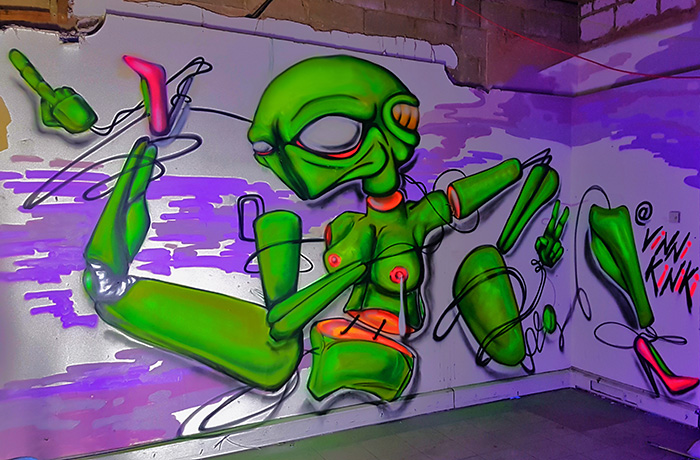 The dissection of the alien sex droid who gained consciousness – painted for the Tiny-TAA exhibition 2019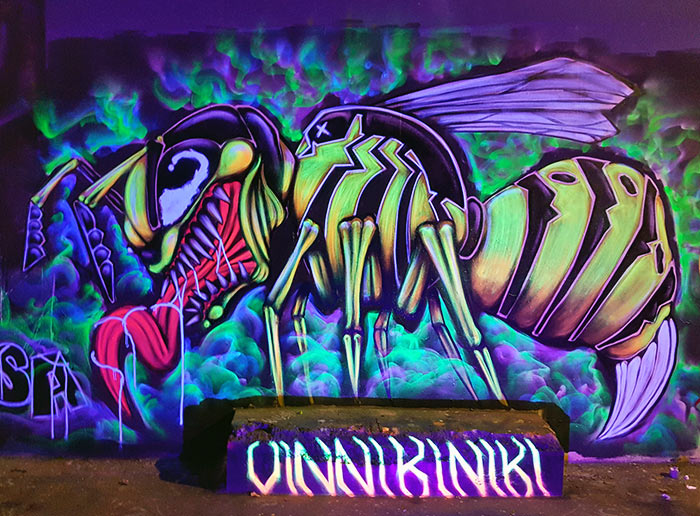 Venom wasp mashup black light street art mural painted near the Nomadic Community Gardens, London 2018 – see how it looks without black light in the graffiti and mural portfolio page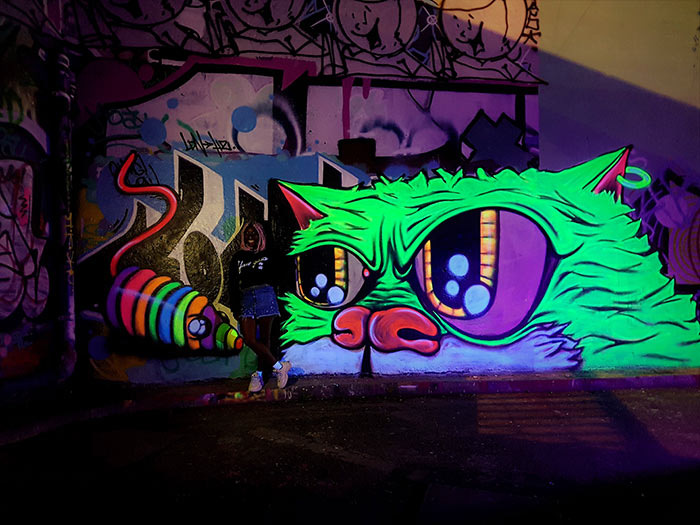 Black light reactive street art mural of a green cat hunting a rainbow coloured toy, painted using neon spray paint, London 2018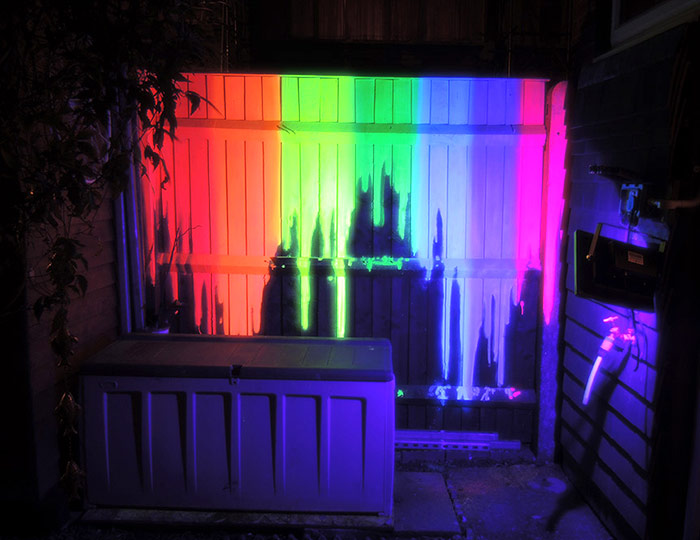 Black light rainbow mural painted at a private garden location using UV neon spray paint, London 2018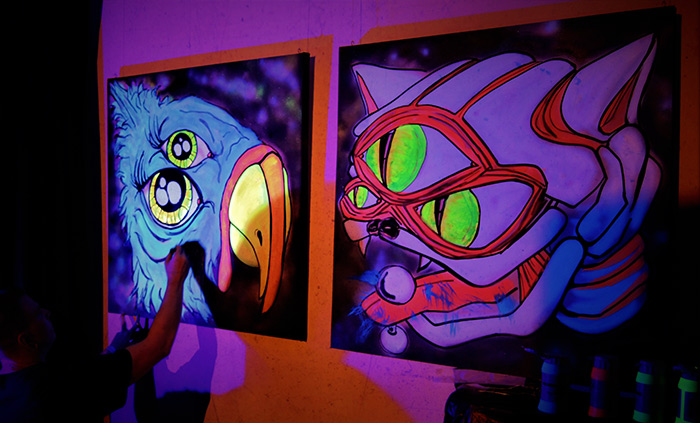 Above black light canvas pieces were painted live at Notting Hill Arts Club London 2017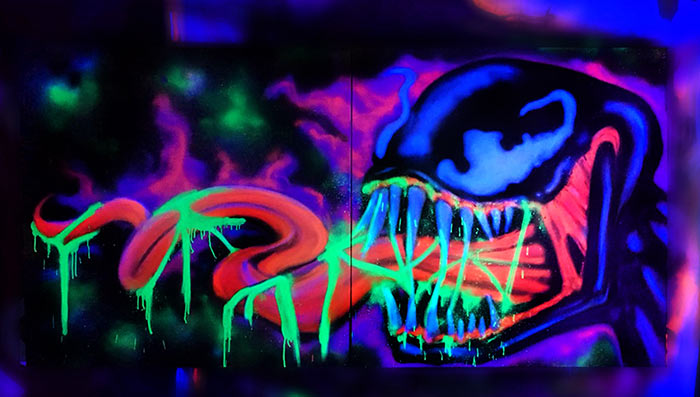 Above black light reactive Venom graffiti art on canvas, find out more about the piece including paints used and step by step photo guide.
I'm crazy about black light art… perhaps it was seeing the Electric Ladyland museum in Amsterdam at a young age or the idea of trying to reconstruct a surreal trip like atmosphere in the real world, a nostalgic reference to pretty much every rave scene back in the early 90's, UV reactive paintings are crazy and really makes art pop and stand out especially when applied to a live event painting situation, which is something I really enjoy doing.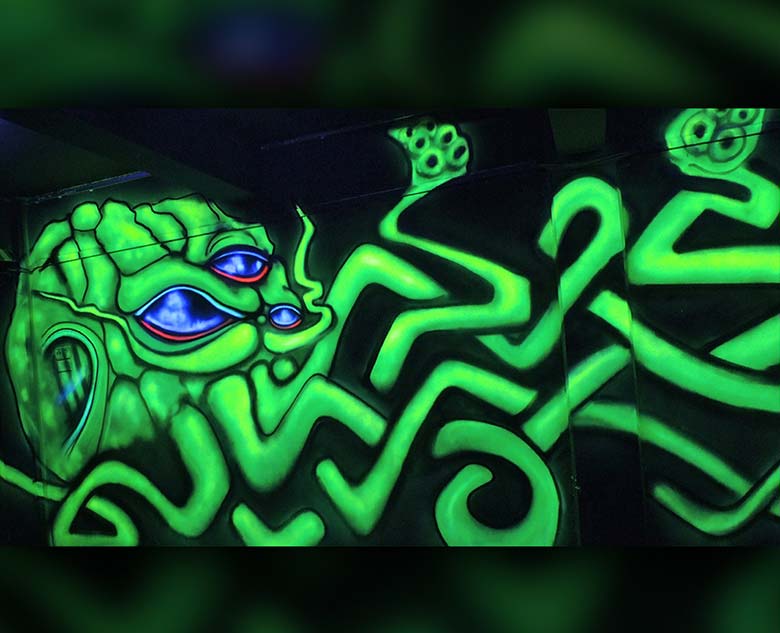 Giant radioactive octopus type alien – Black light graffiti mural for a club in Bangkok

Above Pikachu black light reactive graffiti piece, on the left in normal daylight on the right by night exposed to UV light
I've used UV-reactive paint for a number of projects, from black light graffiti art murals to UV body painting in a live event context, I'm also really keen on bringing black light graffiti art to the streets as you can see in the above Pikachu black light piece as an example. I'll try to write an article explaining my portable UV light rig at some point.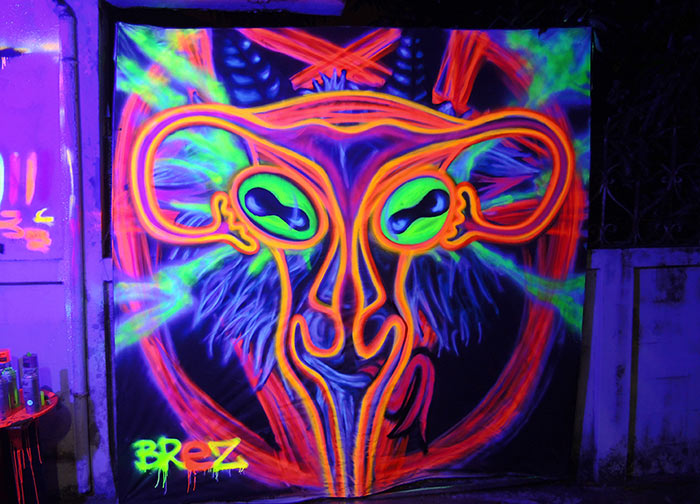 Above black light reactive mashup of styles and references 2m x 2m (Sigil of Baphomet X medical illustration of a Uterus) click here for more information about this piece.
On this page I will showcase a selected cross-section of black light projects I've worked on. I've added some descriptions above the photos to fill in the blanks…. If your interested to hire me to produce black light art for delivery or in a live event painting context you can contact me – let me know as much info as possible, I'll get back to you as soon as I can, cheers!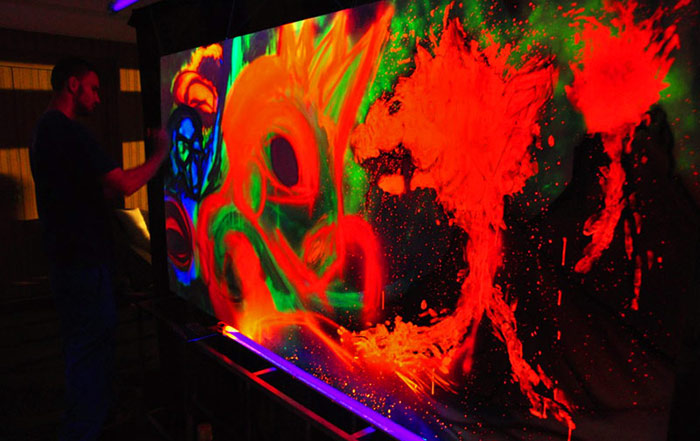 Above a photo of me creating a black light art piece live at a event in Bangkok 2015. 3m wide x 1m high.
More Black Light Art & Graffiti
Below, black light graffiti mural painted at a warehouse party (hybrid chimera animal creature). The piece is roughly 7m wide x 2m high, painted very fast, perhaps 2 hours. Read more about the chimera hybrid mural.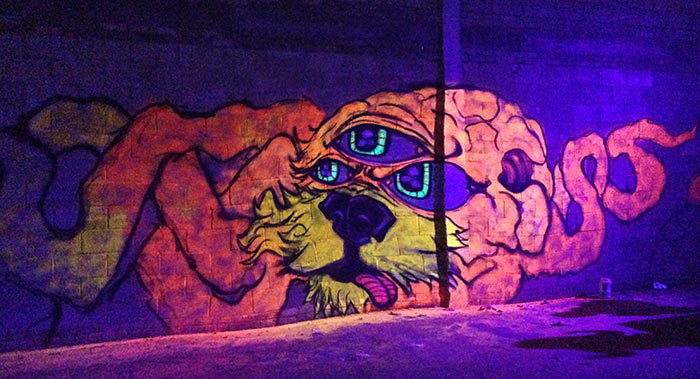 Below, Outdoor black light graffiti mural painted on the side of the Thong Lo art gallery in Bangkok. The gallery very kindly installed uv lights on the side of the building, during the day the mural pieces look like normal paintings, during the night the uv lights were turned on and the art lit up to reveal the black light art as seen in below photo. Read more about the Thong Lo Art gallery black light mural project.
Below, a close up of the gallery building wall (as above) – 'topless aliens high-fiving' high up on a sketchy and precarious ledge – read more about these black light aliens.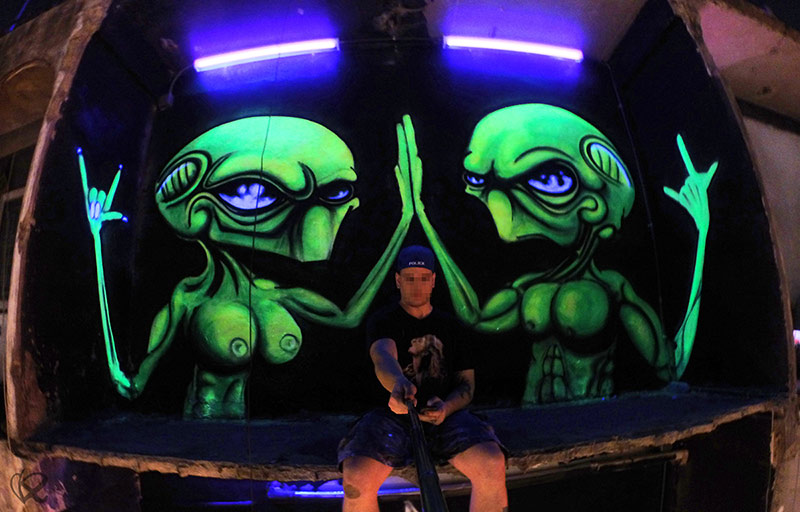 Below, live black light event painting at a club, 'Phatphunk 3rd anniversary party', 2m wide x 1m high. Painting time of around 4 hours. In this scenario rather than using spray paint I use black light reactive acrylic paints to avoid toxic fumes (and choking everyone) inside the club. Read the full event article – live black light event painting for Phatfunk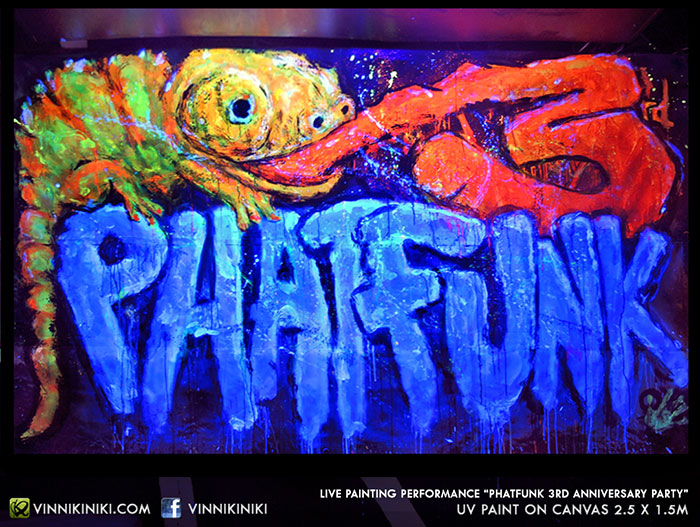 Below, custom black light reactive portrait on canvas in – upper image photo was taken in normal day light and below the same canvas exposed to black light revealing the hidden glowing elements. Read more about this black light portrait.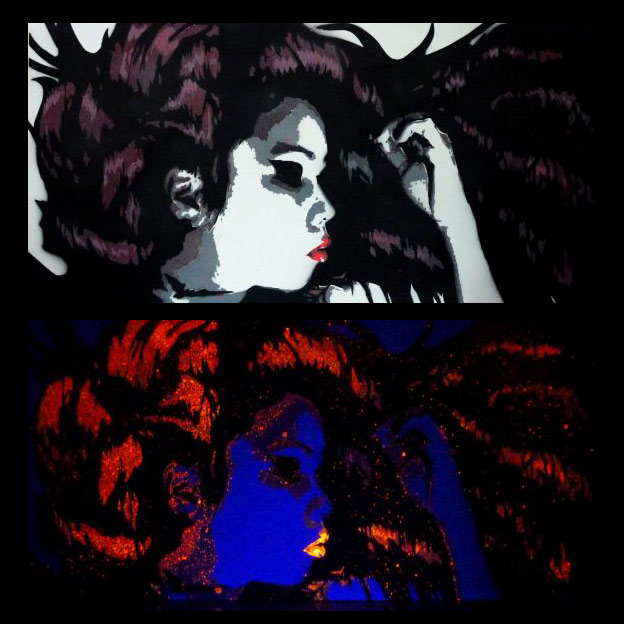 Below photo, giant alien squid graffiti mural painted as a back drop for a black light party event. The piece was painted a few days before the party.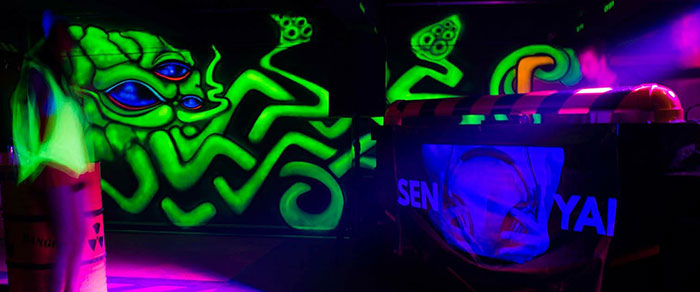 To hire me for your event or to create custom black light art – contact me using the link below. Speak soon, cheers!

How to paint black light art and time lapse graffiti videos
A lot of people ask me how long it takes to paint the large scale black light art murals, the answer is not clear cut, it totally depends on the project brief, the size and intricacy of the piece being created denotes how long it will take to finish. As a rough rule of thumb black light art painted using spray cans is usually quicker to finish than using traditional acrylic or other paint brush based UV reactive paint. There have been times where i've create a large scale chimera mural 7m x 2m high in 3 hours and conversely I've worked on a small 60cm x 1m canvas and it's taken my days to complete! Below I've put two example videos of how I create the murals, there are many more more videos on my youtube channel click here to subscribe.
Below a video time lapse of black light mural I painted using acrylic black light reactive paint. The piece roughly 4m wide by 2m high in size, it was painted live inside the venue while the party was going on. It took roughly 4 hours to complete. Understandably it's a major preference for clients to use paint that doesn't give of toxic fumes in a live event situation, unless there is good ventilation or an outdoor location at the venue using spray paint have to be avoided.
The below black light mural was painted using UV reactive spray paint on a portable and foldable canvas. It was painted at my art studio and then transported to a beach in Thailand where it served as a backdrop for a black light themed wedding party. The piece is roughly 2m x 2m.