NFT Art
NFT cryptoart feels like the art genre I've been waiting (or is it searching?) for all my life, here is why...
Why i love the NFT Cryptoart scene
NFT Art Fam Collaborations & Solo Efforts Currently
Available on Marketplaces @withFND @opensea @KnownOrigin_io on offer in 2022! 💜🧡🤩#NFT #NFTs #NFTartist #NFTcommunity #NFTart #PSYNFT #TrippyNFT #nftcollectors #NFTdrops

Details for all NFTs in the attached tweets 👇👇👇 pic.twitter.com/NuGJ6PC7h3

— 🆅🅸🅽🅽🅸👽🅺🅸🅽🅸🅺🅸.🅴🆃🅷 🌌PƧYFΛM🌵lsᵈaO🍄 (@vinnikiniki) January 4, 2022
Peanut butter and Jelly, Crypto Blockchain Technology and Visual Art… You know that feeling when something you didn't know you were waiting for just suddenly comes into your life from nowhere? That's exactly how I feel about NFT art, it feels like the art genre I've been waiting (or is it searching?) for all my life.
I am currently selling NFTs on the following marketplaces and collections, any question please do get in touch! 
An NFT collaboration project, combining street art and graffiti with talented 3D artists to create high impact immersive art ready for the blockchain, more information about the cryptographitti project here

LoFi hits NFT collectible series is limited to 100x Alien LSD themed animated NFTs available on Opensea. The project is best viewed on the purpose built website where you can see it in all it's glory at lofifits.wtf – you can also read more about the lofi hits project and the roadmap here


A whacky and trippy psychedelic cat collection on Opensea, series limited to 33 and never more cosmic cats, each with a high-resolution print file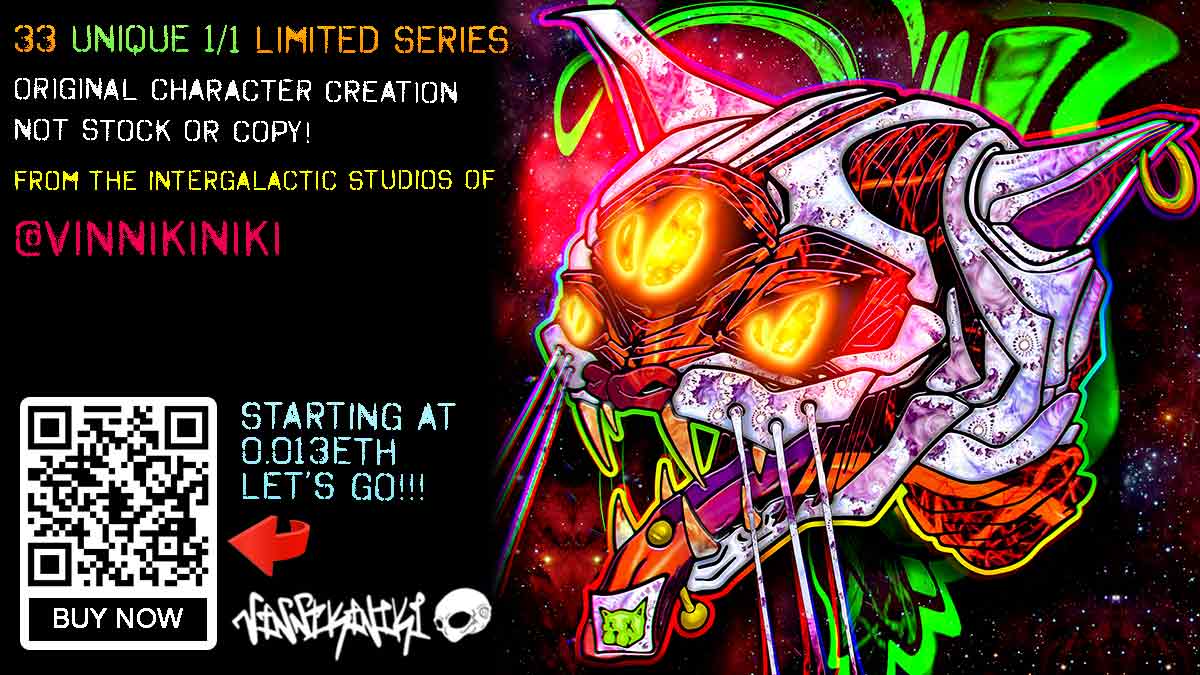 Being a fan of blockchain as a life changing concept and technology, a hobbyist cryptocurrency trader and (obviously) an artist who makes trippy alien infused Gif type motion graphics and media art it seems like a perfect symbiosis, a synchronistic direction and delightful fusion full of possibility and wonder.
I've been super passionate about creating art all my life but have always felt there was something missing in terms of delivery and possibility from traditional art forms, cryptoart is like the rug that was stolen from Lebowski, it really ties the whole freaking proverbial room together, hundreds of times over!
Some things I love about the cryptoart scene; the fact that the audience is a great global community, the work is varied and mostly fresh, even when it's not particular talented it's still interesting conceptually, the purchase and proof of  art ownership by the buyer is not possible to counterfeit through the implementation of smart blockchain backed contracts, the galleries are de-centralized and the collectors come from no one fixed geolocation, the style can be pretty much anything.
Often during my varied personal design process journeys I found myself going of on tangents and ended up with animated versions of what were destined to actually be print pieces. I always got a buzz from seeing the latest visual technology get hybridized and assimilated into the art world sphere, be it projection mapping, clever graffiti time lapses or good old fashioned projection mapping, I really do feel like NFT art is a scene I've been waiting for all my creative life.
Needless to say I am very excited to be venturing into the world of NFT art, like Daft Punk, I'm out to get lucky. I've been creating art a long-time, as a mural street artist, body painter, digital illustration artist and lover of tech art collaborations. NFT perfectly plugs the gap for when designs which were once destined for print became too static for lack of better expression.