The Crypto Graffiti X 3D artist – Cryptographitti NFT signature series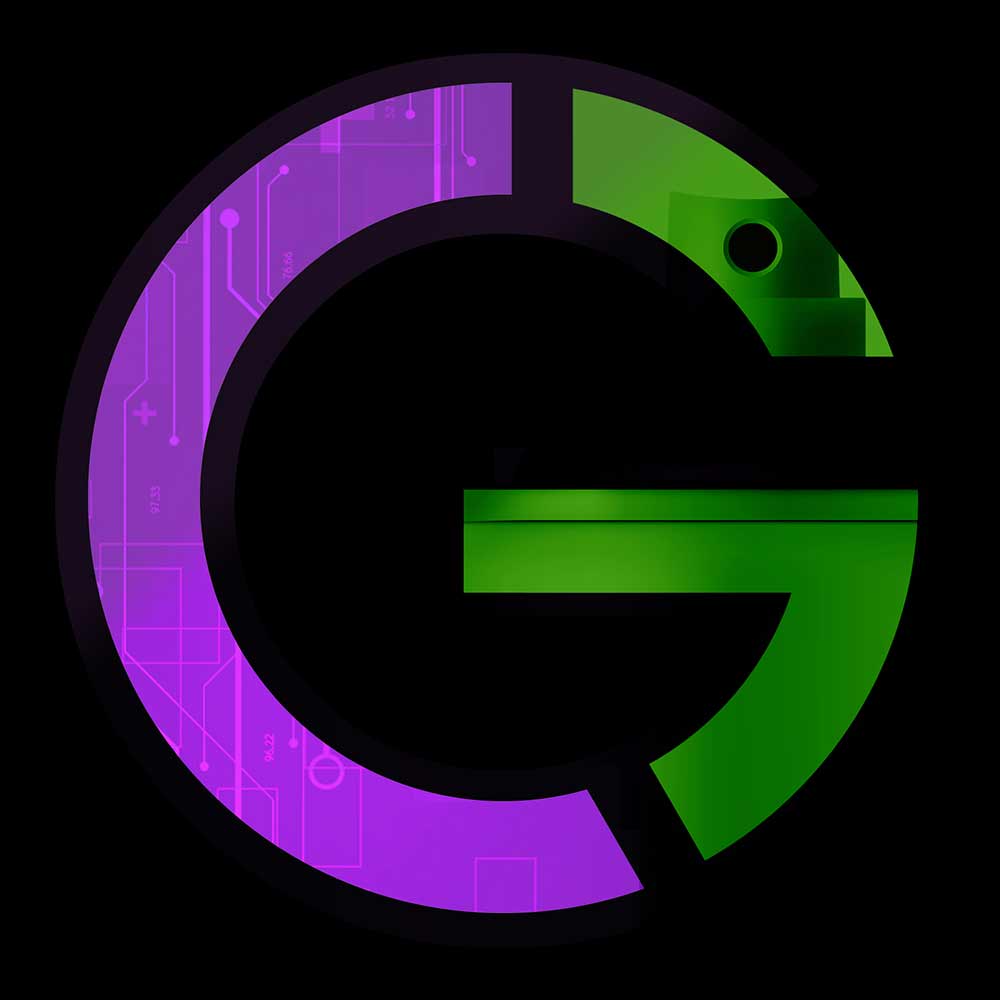 Cryptographitti NFT signature series explained
The Cryptographitti Project is a series of NFT artist collaborations, where original graffiti and street art murals painted by ViNNi KiNiKi are remixed by talented 3D artists from around the world, for them to exist in a metamorphosed, repurposed state on the Ethereum blockchain as NFT cryptoart.
The original meanings and visuals become re-imagined, and as such, the street art murals transcend their original context and become re-contextualised digital assets which exist eternally on the blockchain.
Although visually lowbrow and urban, I place meaning and hidden messages in the graffiti murals I paint. In this series I am working with 3D artists who I value and respect for their uniqueness, skill, imagination, and ingenuity, NFT Artists who put as much care into creating something unique and meaningful as I do, when I paint street art murals.
This article serves as a white paper for the Cryptographitti Collection on Foundation App
CONTENTS
The NFTS
001 GENESIS NFT – "The Lady and the Wasp (Venom, Tentacles, Claws and all)"
About the series
HOW ART THE NFT PIECES CREATED?
WHERE CAN I BUY CRYPTOGRAPHITTI NFTS?
IS CRYPTOGRAPHITTI A DECENT INVESTMENT AS AN NFT COLLECTOR?
GEOGRAPHICALLY SPEAKING, WHERE ARE THE MURALS AND 3D ARTISTS LOCATED?
TRAITS, FEATURES, EDITIONS?
WHY CRYTPO GRAFFITI x 3D ARTIST SIGNATURE SERIES?
WHY EVEN BOTHER CREATING CRYPTO GRAFFITI?
HOW DID THE CRYPTOGRAPHITTI NFT PROJECT CAME ABOUT?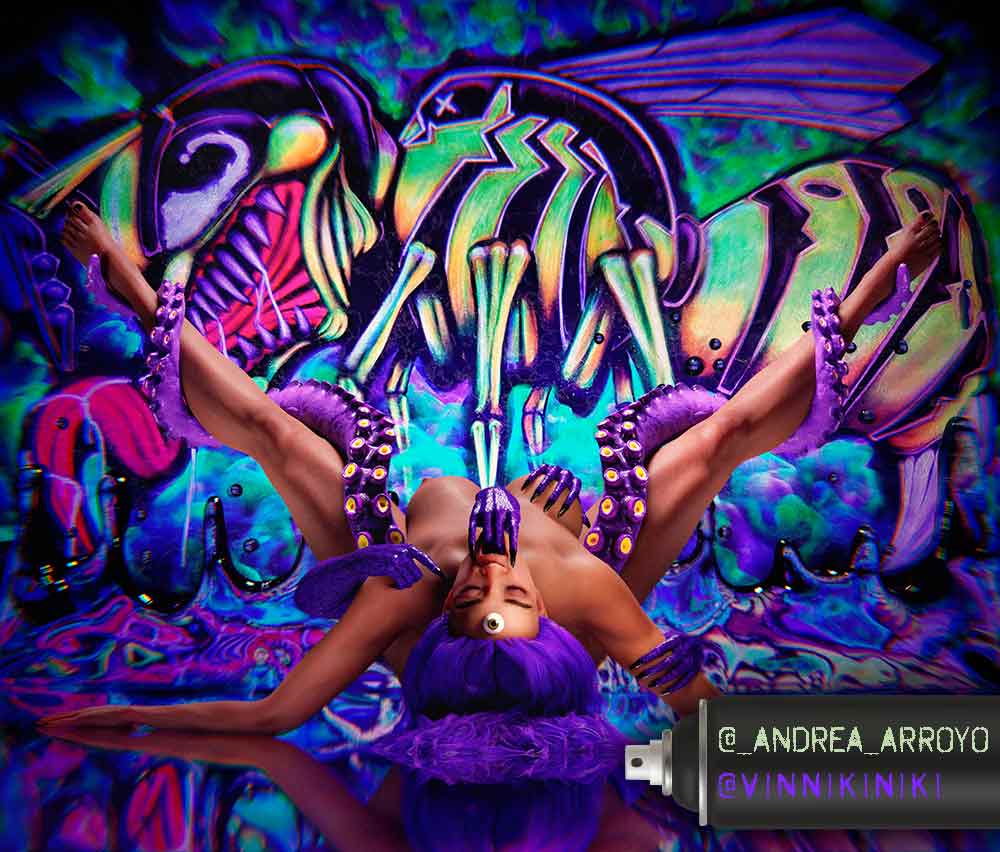 CRYPTOGRAPHITTI #01 GENESIS NFT Andrea Arroyo X ViNNi KiNiKi 
I am beyond thrilled to unveil the first in the series, i am so excited to be working with the super talented and thoughtful Andrea_arroyo
More on this piece including behind the scenes, commentary and podcast coming soon.

NFT artist Cryptographitti interview Sweet To Sour x ViNNi KiNiKi discuss Cryptograff Genesis Art

https://t.co/qLSddULtEQ NFTs is 2 today!🥳@ClaudioBel2 & @vinnikiniki brought their A-Game on this NFT – a fusion of street art & 3D animation👽

You can find it on @withFND >> https://t.co/oanbV51gYHhttps://t.co/H53IUvItBo#NFTs #NFT #PSYNFT #NFTartists #NFT3D #NFTstreetart pic.twitter.com/gaypoL4zDi

— 🆅🅸🅽🅽🅸👽🅺🅸🅽🅸🅺🅸.🅴🆃🅷 🌌PƧYFΛM🌵lsᵈaO🍄 (@vinnikiniki) January 23, 2022
CRYPTOGRAPHITTI #02 "Hidden Realities" – Claudio Bel X ViNNi KiNiKi 
More on this piece including behind the scenes, commentary and podcast coming soon.

HOW ART THE NFT PIECES CREATED?
Each piece is created because of a personal connection and intimate discussion I have with the 3D artist. The initial talking point is a street art / graffiti piece which that artist has chosen to begin the discussion with. Artists talk less with words and more with visuals, it's a fun conversation.
The basic foundation; make something truly awesome! Whether that be a high resolution still image or animation is up to the artist. However, if animated, each piece will come with a still image which the NFT collector can use as a PFP, banner image or print. This is especially useful for online NFT galleries which cannot feature the animated version of the piece.
All the murals used in this collection were created on a passion / non-commission basis, meaning they were self-funded by ViNNi KiNiKi and painted irl using actual spray paint at various locations geographically speaking (see the map above).
Each 3D artist will use tools and programs which are preferential to their practice. Some of the programs being used include Maya, Cinema 4D, Blender, Houdini, Adobe After Effects, Adobe Photoshop and others. All the art is bespoke and thoughtful
WHERE CAN I BUY CRYPTOGRAPHITTI NFTS?
The NFTs are minted on Foundation APP using split contracts – Therefore you can buy the CryptoGraphitti NFTs on Foundation App. Each NFT is minted and listed there using Foundation's split contract, meaning upon purchase the payment (including royalties from future sales) automatically gets sent to the payout address for the artists taking part. Each NFT from this series is done on a 50/50 split basis, where 50% goes to the 3D artist and 50% goes to ViNNi KiNiKi, the creator of the original mural.
IS CRYPTOGRAPHITTI A GOOD INVESTMENT AS AN NFT COLLECTOR?
As an NFT collector I want to assure that you are investing in real artists who are creating NFT art for the long term. You are purchasing art created by real passionate artists and individuals, not projects who are here to earn a quick dollar. Every artist involved in this project is someone who has heavily invested a lot of time and effort into their artistic careers and are here for the long term.
By investing in these NFTs your investment is going to increase in value as does the artist's career. Conversely when you collect this NFT series you are investing in the artist which in turn fuels their career which in the long run impacts the value the of the art they create, a real win-win for all parties concerned.
Sadly, scams do exist in the NFT and crypto world, if you are unsure or have any questions before buying the cryptographitti NFTs I welcome you to contact me in order to raise any concerns.
All art created in this series is original and unique.
GEOGRAPHICALLY SPEAKING, WHERE ARE THE MURALS AND 3D ARTISTS LOCATED?
Both the murals and the artists who have remixed them exist all over the globe, a truly international project.
The map below shows you 2 main points of interest. The layer of pins shows you where the murals were geographically created, the second layer of pins shows you where in the world the NFT artist remixed the mural and turned it into a 3D NFT collaboration. You can toggle the visible pins by using the menu which is accessible on the top left-hand side of the map.
TRAITS, FEATURES, EDITIONS?
Bucking the trend of most NFT collectible series, the cryptographitti series is very much about creating unique and desirable 1/1 editions.
At least for the moment there is no plan to make multiple editions. We wanted to create something which the NFT collector knows is going to super rare, highly scare and most importantly unique.
Having said that there is no need for traits, or editions, each NFT will be strictly 1/1.
As far as the collection itself goes there will be a scarce supply, with a limited number being released each year. The below is an estimate as to how many may be released per year.
2022 – 10 NFT artworks
2023 – 10 NFT artworks
2024 onwards – TBD
Although speculative at this stage in time it is likely there will not be more than a total of 50 Cryptographitti NFT collaborations, again making this a highly desirable series.
It is also worth noting the art ONLY EXISTS as an NFT, there will be no other purchasable editions of the art created.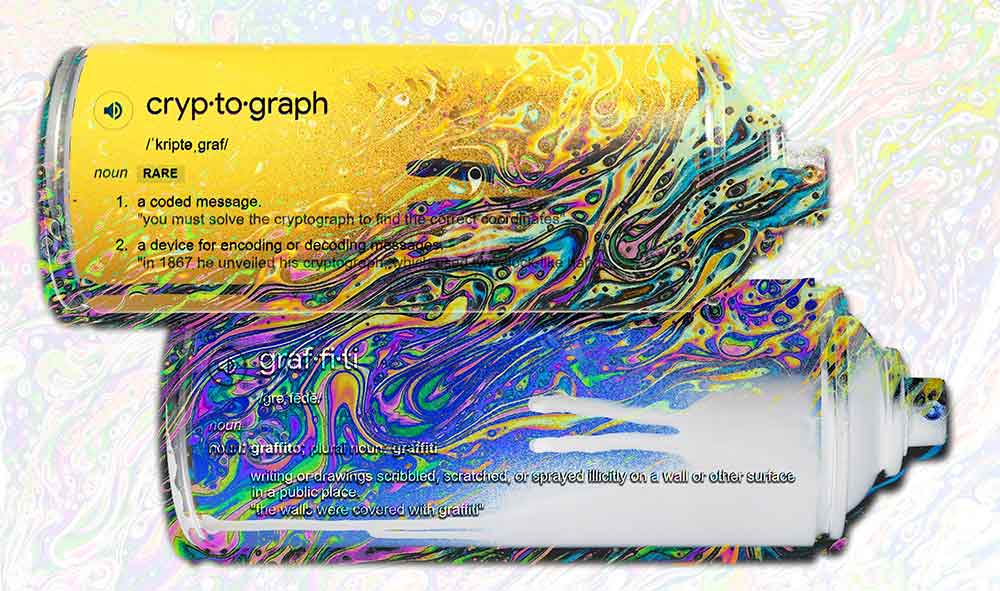 WHY CRYTPO GRAFFITI x 3D ARTIST SIGNATURE SERIES?
I've been actively participating in the NFT sphere for close to a year at time of writing this article, I've had good success selling purely digital artwork I've created, but felt reserved in minting street art and graffiti murals I'd created (I'll go into more details in further sections of this article)
It's taken a lot of thought, but now, I am not only comfortable but also very excited to announce the birth and launch of this NFT project.
As an artist I love collaborating, especially with artists who do what I cannot do. It's my long-standing belief that in a good, synergistic collaboration we don't just add our skills, we multiply them, creating works which neither of us could create alone, the result is not just an awesome NFT for our collectors, it's also surprising result to ourselves as creators.
3D art is something which I've long awed, ironically, I create 3D art, which means to say physical tangible pieces which exist in the real world. But in terms of a digital art piece 3D is something I am very beginner in doing. I am thrilled to say that in this project I am collaborating with some of the most insanely talented 3D artists I have had the pleasure to come across. Every collaboration in this project is done out of pure love and mutual respect.
WHY BOTHER CREATING CRYPTO GRAFFITI?
The premise, process and end result can be easily explained. The reason and motivation, however, takes a bit longer to explain.
Some of my most impressive and awe evoking art pieces which I've created during my career as an artist exist (or existed) in the street art/graffiti format. I say existed because graffiti, unless performed as an action for a specific location (which then questionably isn't graffiti anymore) is a very temporary form of art. However, unlike the temporary works of high artists such as Andy Goldsworthy, street art murals are rarely praised for their depth and meaning, moreover judged by their aesthetics or audacity. Street artists such as Banksy managed to transcend this barrier by creating thought evoking art pieces which carried important message and meaning. He also managed to transcend typical format and known delivery systems that street artists were previously boxed into. The crypto graffiti signature series is just that, a transcendence, a means of adapting a format to exist more harmoniously in another incarnation and realm, it's graffiti on the blockchain.
All art is created and exists in itself, the context, whether the artist consciously realizes it or not, makes the art take on an extra level of meaning and interpretation. What constitutes graffiti and street art is highly debatable topic. In my opinion if it (street art/graffiti) does not exist in a public, physical, tangible space it fails the basic foundations that make it what it is.
Graffiti can be anything, ranging from topical political, artisan aesthetic, self-expressive, public commentary, counter-culture anarchic signaling or straight up vandalism and everything in between. When it comes to street art the waters get a bit murkier, a fine line can exist between the two genres. In simple terms I will put forward that graffiti is closer to the streets and street art ironically is closer to the white wall gallery scene.
At any rate, when the 'graffiti artist' is hired to create 'art' in a specific preserved space (where it can take on the more civil meaning of 'mural art'), both graffiti and street art exist in a state of organic transience. How long the 'art' exists depends on a variety of factors; will it get painted over by someone else? Will it get buffed by council workers? Will the foundation upon it was painted stand the test of weathering, time and other factors?
NFT art, which is to say art which is published by means of a unique identifying hash or contract on a de-centralized crypto blockchain is an entirely different beast. Unless wiped out by solar flares or other means of total electronic infrastructure destruction, the NFT art will exist as long as the network is there to preserve it. One hopes that means forever. It is worth noting that though Art can be an NFT, an NFT doesn't necessarily have to be art.
For the above reasons, and others which I'll go into more detail in this article I decided it wouldn't be right to lazily mint the photos of the street art pieces and graffiti murals I'd created on the streets onto a blockchain as NFTs, especially when another far more interesting and conceptual proposition presents itself.
HOW DID THE CRYPTOGRAPHITTI NFT PROJECT CAME ABOUT?
The NFT art sphere is full of all sorts of artists, genres and formats. Ranging from pixelated simplicity to high quality intricate 3D immersive renders.
Upon joining the NFT art world my initial reaction was that to mint photos of my murals and street art, for them to exist on the blockhain as cryptoart would be an excellent marriage of ideas.
The art, which was previously unsellable would now be able to have a price tag and an owner. Great.
The artwork would be able to exist in eternity as a digital asset, no fear of getting covered over or buffed. Also Great.
But upon further thought these two excellent solutions were the very points that made me not want to mint street art on a blockchain.
Allow me to explain, Graffiti has a long lineage and is an intricate and paradoxical beast, even with an inside track I am sometimes confused as to what is and what isn't Graffiti, Street Art is much easier to explain but often these two genres get used interchangeably, and even trying to define such a thing can feel useless and counterproductive. Its cause and effect, therefore definition and meaning are defined by instigator and viewer, and even then, sometimes neither is clear to its purpose.
Personally, once street art or graffiti exist anywhere else than a public space it isn't graffiti or street art anymore. It's something I did for myself and for others, to brighten spaces and to reclaim public space. As a genre I consider both street art and graffiti to be a wild magical beast, it's like a wild tiger, once in captivity by definition it's still a tiger, but it looses the essence of what makes it a tiger in the first place. I can apply the same analogy to street art and graffiti done for hire, sure, it still has the same strokes and vibrancy, but the context of its location can make it less powerful than what it normally is in its natural habitat. Picture a 'graffiti mural' created for clothing store, the graffiti is only there to benefit the brand and to enhance the store, to give the consumer the experience and feeling of something urban, but it's not real. It's diluted. Obviously it's an arguable statement, there's a big difference between exploitative clothing brands and grass roots organization which support the culture, but I think you get my point.
In short, the idea of minting graffiti onto a blockchain just did not rest well with me. They are however some of the best pieces I've personally created. They were never monetized, and I didn't want them to be. The photo of the original piece is already a lesser way to experience the art on the streets, but how about taking that digital asset (the photo) and making it something more and better than what it was before? That idea I liked a lot. The idea of taking the best bits of the art and conceptually presenting it for the NFT era, by replacing the human element with a 3D CGI character, felt righteous, interesting and after discussing it with a few 3D artist who gave positive feedback the CryptoGraphitti NFT project was born.