NFT collaboration 3D Render Art "CRYPTOPORTAL" on Foundation App
A quirky NFT collaboration between architecture designer (@untilpeix) and psychedelic urban artist (@vinnikiniki) present an animated 3D render trip into the alien dimension of Ethereum, complete with crisp sound design and lowbrow graffiti toilet grunge aesthetic. Available on exclusive Ethereum based NFT marketplace Foundation App! 
CRYPTOPORTAL 👽🌀 Hacking the Simulation
As humans we exist in an observable dimension, a reality which is based on what we can touch, smell, see, taste, and hear.
Our modern lives are governed by self-invented systems, unnatural laws and synthetic structures, truly alien dimensions of existence compared to that of our ancient ancestors.
Considering that many of these complex systems were designed to control and limit our natural capabilities, it is not crazy to suggest we do in fact live in a simulation which is made up of several interconnected systems.
How peculiar that through these systems, either self-adopted or imposed, one biologically same creature can live (or be forced to exist) in a completely different reality from another.
Some systems, like finance and law, once established are near impossible to escape, they govern and limit us all, except they don't, there are those few who exist in different dimensions of reality.
The further we progress, the more difficult it is to change and establish new better, fairer systems.
Sometimes however, life changing simulation hacks can happen, hacks which benefit the many, not just the few. Cryptocurrency and
NFTs have created a portal, a positive rupture in the established existing financial and art systems, to reveal a new reality of existence for those brave enough to enter this alien dimension.
Once opened, the portal cannot be closed, and as you sit on the toilet, reading this, the person in the cubicle next door may have no idea about existence of the dimension you have accessed. Yet here you are, about to buy an NFT that you are going to sell for a life changing sum of money
ViNNi KiNiKi (@vinnikiniki) x Ivan Ontiveros (@untilpeix)
👽 2021 ✨ Edition 1/1
⚡ Format: MP4 Video with Audio
🎞️ Video: 3D Render, 30 FPS, 1444 x 1900 px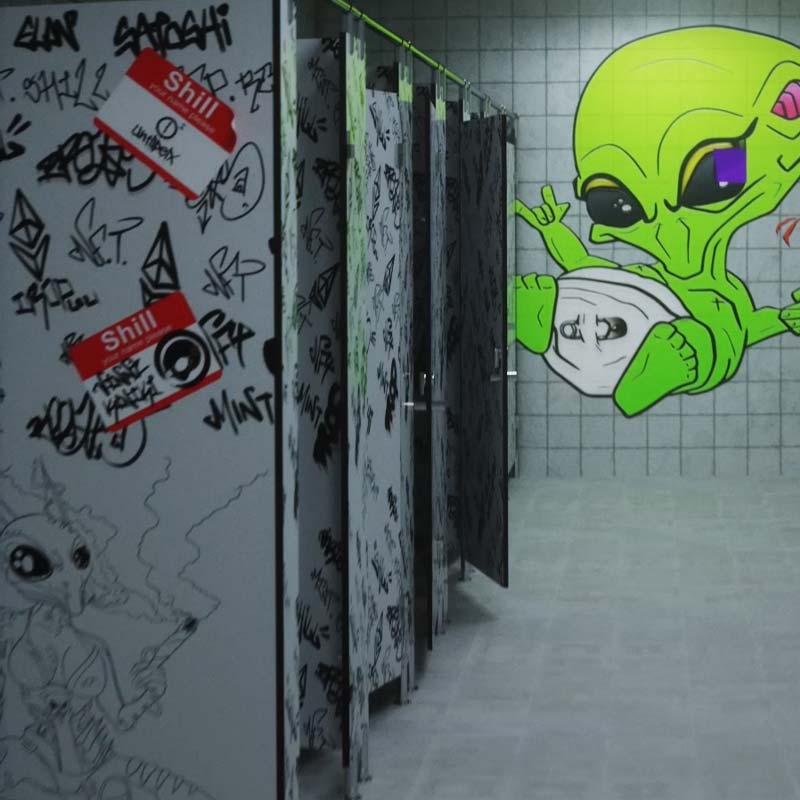 The above still frame from the 3D animation shows some details you might have missed. The toilet cubicles are covered graffiti including crypto and NFT related terms such as "Satoshi", "Mint", "Drop NFT", "Elon Musk was here" and remixes of cult classic writer; "hello my name is stickers" (now "shill your name please").